---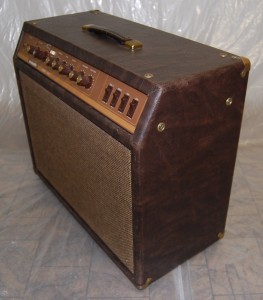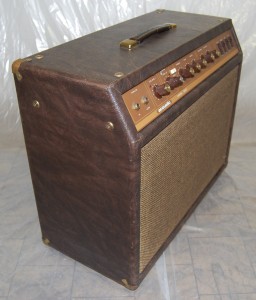 This an exemple I bought while the new year 2007 was comming up from Chelmsford, Essex, UK...These amps were made in Van Nuys, California right near Fender in the good old USA….. SOLD 2012 ....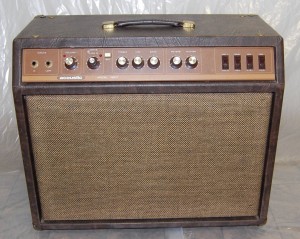 This is Vintage Acoustic Control Corp. G60T mod. 163 tube based guitar amplifier a 60W 1X12 combo it's all-tube, has two switchable channels for clean with preamp-gain and overdrive with drive and own preamp-gain. The sound is excellent, with clean as well as overdriven tones, and naturally very penetrative sounds, plays loudly. Whoever is familiar with the amplifier knows what I am talking about. A rare piece of musical history with a big effect. This amp is rated at 60 watts but it sounds more like 100 watts. It can easily power a 4x12 cabinet with no problem…. It has a very rich crystally clean tone.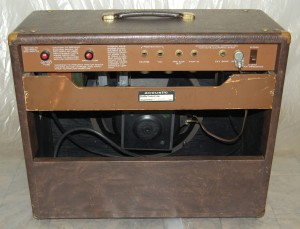 With the touch of a switch it has the over-driven tones of a vintage Fender. This G60T has the most warm clean sound for Jazz players and other kind of music players alike. They are very highly sought by these type of players. The accutronics reverb is just heavenly. I wish all other amps had this reverb too. It is an all valve amplifier 2x 6L6's and 3x ECC 83's and this is a fantastic clean sounding amp as good as a Twin reverb if not better as the sound is much wider to my ears. Maybe the reason top Jazz and country players want it so much. It´s equipped with a very nice bright switch, polarity switch and stanby switch so it is very easy on tubes. The back panel has a speaker out and can be switched betw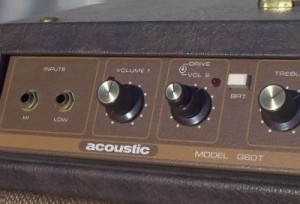 een 4 and 8 ohms. It has preamp out and poweramp in which may be used as an effects loop. If the poweramp in is used, the preamp is cut off. Also on the back are the footswitch jacks for channel and reverb switching, the Fuse an a Holder for a spare fuse. Sometimes good to have one. At least there are two speaker jacks for the build-in one and and external one. If both are used you can swith from 8 to 4 Ohm resistance. An active 3-band EQ for both channels. These could be an own EQ for every channel but this is not the concept of this amp. The Amp is a heavy and solid construction. Includes a 2-button foot pedal switch. Works great with fant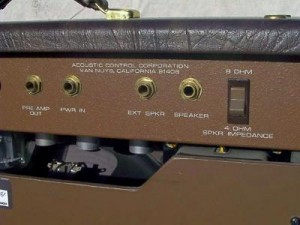 astic sound and projection. Overall condtion is very nice. As you can see, I have kept the amp in excellent shape inside and out. Amp covering Brown tolex is super clean with no rips or tears. A grill cloth super clean with no rips or damage of any kind.
Dimensions: 22" x 18" x 10 1/2". (šířka 56cm x výška 45cm x hloubka 26cm)weight: 28 kg
Acoustic G60T 112 model 163 Brown tolex, americké kytarové kombo, menší a lehčí bratr modelu G100T, v provedení Brown tolex zakoupeno v lednu 2007 z Chelmsford, Essex, UK s originál reproduktorem Eminence 100W. Tento velmi zachovalý exemplář G60T měl celou dobu téměř 26 let pouze jednoho jedinného majitele v Anglii. S notnou dávkou až neuvěřitelného štěstí jsme se dostali do kontaktu a po krátké době putoval jeho amp směr Česko. Acoustic G60T model 163 je 60W, 1x12" kytarové kombo s lampami 2x 6L6 a 3xECC83. Má dva kanály, čistý clean zvuk s preamp gainem a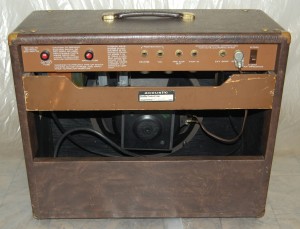 druhý pro zkreslený overdrive zvuk a také s vlastním preamp gainem. Zvuk tohoto komba je penetrativní, dobře a účinně se prosazující i při nízké hlasitosti. Acoustic G60T používá pružinový reverb Accutronic což je skvělá volba a navíc léty ověřená klasika v mnoha kytarových ampech od vícero US výrobců. Acoustic G60T je vybaven aktivním 3-band Eq pro oba kanály a k tomu účinným přepínačem Bright pro zvýraznění zvuku, dále přepínačem polarity, přepínačem standby a přepínačem kanálů, které lze také přepínat footswitchem. Footswitchové stupy pro přepínání kanálů, a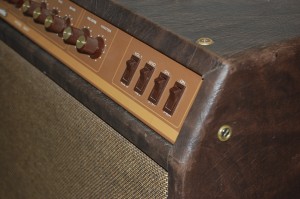 vypínání reverbu, jsou na zadní straně ampu. Zde jsou dále vstupy pro vestavěný a externí reproduktor, dále přepínač pro impedanci mezi 4 a 8 ohmy a na konec pojistka a také rezervní pojistka. Acoustic G60T je celkově jednoduchý amp s geniálním soundem, skvělou pověstí a snad nekonečnou trvanlivostí díky kvalitě a poctivosti nápadu i provedení. Acoustic Control Corporation již přes 20 let neexistuje, avšak tato firma z Van Nuys v Kalifornii stihla zanechat po sobě a svém působení nesmazatelnou stopu. Pro zvídavé ještě rozměry Acoustic G60T: 22" x 18" x 10 1/2". (šířka 56cm x výška 45cm x hloubka 26cm) weight: 28 kg
Power: 120V/240V, 50/60Hz, 300 Watts (per back of amp)
2 channels (can use with footswitch)

Front input jacks:

Front Panel knobs:

Volume 1 / Volume 2 (Vol 2 is two-stack knob)

Treble / Mid / Bass

Reverb / Master (volume)

Front Panel switches:

VOL 1 / VOL 2

GND / REV

ON / STBY

ON / PWR

BRT (white button)

Rear controls / switches:

Footswitch jacks

Pre-Amp Out jack

Power In jack

Extension speaker jack

Speaker jack

Speaker impedance switch (4 or 8 ohm