---
Acoustic G60T mod.163 Brown tolex '83 II.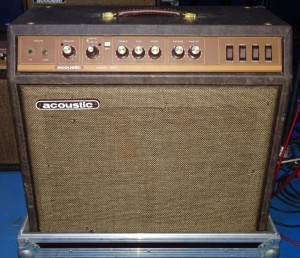 Acoustic G60T mod.163 sitting in a Brown tolex G100T cabinet. Speaker ROLA Celestion G12-80W 8 Ohms. Power tubes are Sylvania 6L6GC STR-387. These are much sought after - sounds beautifuly - holy grail - legendary tubes. Preamp tubes 12AT7 (ecc81) as a phase invertor (sitting in a row next to 6L6) then in the middle position 12AX7 (ecc83) and the last one tube is 12AX7 (ecc83) sitting in a row next to the Output transformer. The TAD Reverb tank 8AB2D1B - 3 spring job (Acutronic replacement) is driven by LM383T Audio amplifier (7 W) and two transistors TIP31C and TIP42C. The LM383T has High current capability (3.5A) enables the device to drive low impedance loads with low distortion. ......I have bought a chassis of the G60T as non-working amp in 11/2018 then repaired and fully checked by Slavek Šámal (some points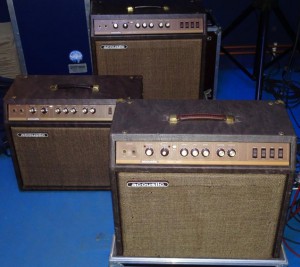 needed to be re-soldered, some wire needed to be re-conected and Vactrols Vactec VTL9A 10/2 needed to be fixed). The empty Brown tolex cabinet I've bought from the Dutch's musician-guy in 06/2018 and the cabinet itself came from his a G100T amp. Now, the sound is excellent, with clean tones as well as overdriven tones. Very naturally, very penetrative sound as well as very thick and full, even at a low volume. You can also turn the volume of the amp up and then it plays very loudly. Whoever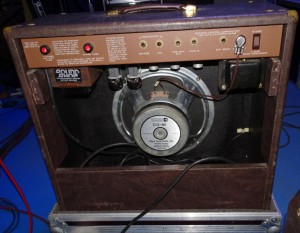 is familiar with the amplifier knows what I am talking about.
Sylvania 6L6GC STR-387 __ (STR - Special Tube Request)
These are much sought after - sounds beautifuly - holy grail - legendary tubes.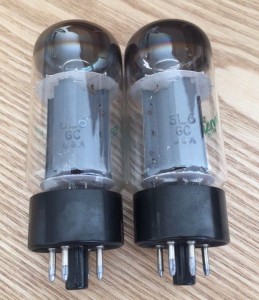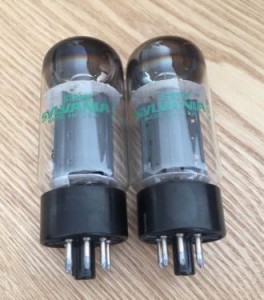 Acoustic G60T model 163 - Dimensions: 22" x 18" x 10 1/2".
(šířka 56cm x výška 52,5cm x hloubka 26cm)
weight: 28 kg
Power: 120V/240V, 50/60Hz, 300 Watts (per back of amp)
2 channels (can use with footswitch)

Front input jacks:

Front Panel knobs:

Volume 1 / Volume 2 (Vol 2 is two-stack knob)

Treble / Mid / Bass

Reverb / Master (volume)

Front Panel switches:

VOL 1 / VOL 2

GND / REV

ON / STBY

ON / PWR

BRT (white button)

Rear controls / switches:

Footswitch jacks

Pre-Amp Out jack

Power In jack

Extension speaker jack

Speaker jack

Speaker impedance switch (4 or 8 ohm)