---
Fender Deluxe Nashville Telecaster (MIM)

Elektrická kytara typu Telecaster ze série Fender Deluxe Telecaster se vyrábí nepřetržitě od svého uvedení na trh a spolu se Stratocasterem tvoří základ produkce kytar Fender.
Delivering a unique combination of Tele® and Strat® tones. The Fender Deluxe Nashville Telecaster is both a down home and a sophisticated electric guitar reflecting the character of the Music City it honors.

The Nashville Tele is fitted with a Tex-Mex Strat pickup sandwiched between 2 Tex-Mex Fender Telecaster pickups. This array combined with 5-way Strat-o-Tone switching makes the Nashville Tele one of the most versatile of the Telecaster guitars.

The Fender Deluxe Series Nashville Telecaster is equipped with an ash body on Honey Blonde, vintage machine heads, U.S. Vintage 6-saddle bridge, and medium-jumbo frets.

DELUXE TELECASTER
Tvar Teleca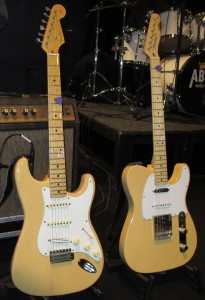 stera je asi všeobecně známý – tělo odvozené od tvaru "španělky" s výřezem u krku ze spodní strany pro snazší přístup na vyšší polohy a lehkým seříznutím ze strany horní. Tělo tohoto telecastera je vyrobeno z baheního jasanu a je kryto polyesterovým lakem, krk je vysoustružen z javoru lakovaného matným urethanovým lakem. Rádius též javorového hmatníku je 9,5 palce, menzura krku 648 mm, profil C a nalezneme na něm 21 medium jumbo pražců.

Kobylka je typicky pevná s šesti kameny ze série American Vintage, struny jdou skrz tělo, na druhé straně kytary nalezneme mechaniky Fender®/Ping® Standard Cast/Dealer Vintage Style. Hardware je chromovaný, tělo pod strunami kryje 4-vrstevný pickguard. Kytara je osazena třemi snímači typu single-coil, konkrétně dva Tex-Mex™ Single-Coil Tele u kobylky a krku, mezi nimiž je jeden Tex-Mex Single-Coil Strat. Přepínají 5-polohovým switchem – kobylkový / kobylkový + střední / střední / střední + krkový / krkový. Na upravení zvuku lze použít potenciometry hlasitosti a tónové clony.


Technické údaje:
elektrická kytara typu Telecaster
série: Deluxe
tělo: masivní bahení jasan, polyesterový lak - barva: Honey Blonde
krk: javor, jeden kus, matný urethanový lak
připevnění krku: šroubovaný
profil krku: modern C
hmatník: javor
menzura: 648 mm
rádius: 9,5'
počet pražců: 21 Medium Jumbo
snímače: 3x single-coil, u krku a kobylky Tex-Mex™ Single-Coil Tele, střed Tex-Mex Single-Coil Strat
ovládání: 1x Volume, 1x Tone
přepínač: 5-polohový
kobylka: American Vintage pevná s 6 kameny, struny skrz tělo
šířka nultého pražce: 43 mm
mechaniky: Fender®/Ping® Standard Cast/Sealed Vintage Style
pickguard: 4-vrstevný
příslušenství: Deluxe GigBag
struny: DAddario XL .010 - .046
Barva: Honey blonde (plavá medová)
Hmatník: Javor
Tělo: Bahení jasan
Typ: Telecaster Deluxe