---
Fender RI '57 Pink Paisley Stratocaster '02 (CIJ)
Fender Pink Paisley Stratocaster 2002 CIJ
ABOUT.....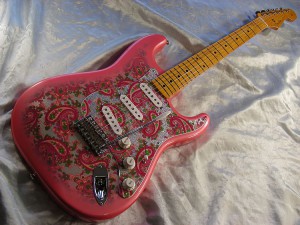 Fender has decided to bring back the Paisley and Blue Floral Strats for a LIMITED release. Luckily I was able to snag one before they were all gone! Inspired by a Paisley late 60s Strat in the Entwhistle collection and popularized in just about any vintage guitar coffee table book or calendar, originals have become highly sought after collector's items. Built in Japan, these Strats are high quality instruments. Japanese Fenders are well known by players as being some of the best around. Many gigging pros would take a Japanese Fender over an American model. Great specs. The body is basswood for light weight. The 25.5 inch scale maple neck features a 7.25 inch radius maple fingerboard with 21 vintage frets. A trio of vintage style single coils dish out big tones. A vintage style trem and Kluson style tuners keep it solid. The paisley finish is absolutely stunning showing a reflective center section and pink sunbursting on the edges. Very, very eye catching. One of my favorite guitars of all time and I'm dang excited they are back. Get it while you still can! I've always loved the feel of a Japanese Fender.
CONDITION.....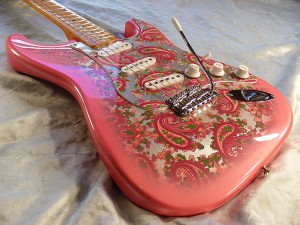 The Body: is in very good shape, mint condition, looks stunning, no scratches or dings or nicks. It features the patented Stratocaster contours and a stunning Paisley finish first found on 1960's Telecasters. The paisley pattern is actually a foil wallpaper applied over a pink-ish painted body, then sprayed with a clear poly finish. Note the guitar looks a little yellow-ish in some pictures, this is due to the lighting from the room it is in. The pictures I have with a black background show its true color best.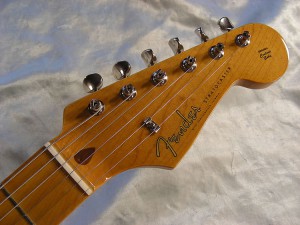 The Neck: Japanese quality is second to none, and this neck is no exception. It has a vintage feel, though it isn't quite as narrow as the USA vintage '57 necks, which makes it a little easier to play. Its action is set fairly low. You will love playing this neck! Its finish has aged nicely to a darker amber. The frets have plenty of life, and are the original. The nut is also original. The neck has no dents or dings, although if you look very hard you can see some tiny impressions in the clearcoat over the rosewood stripe. The neck's lacquer has no visible wear to it.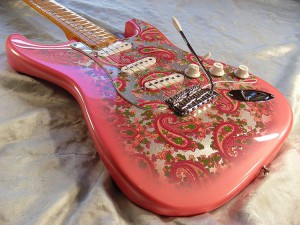 The Sound: The pickups installed are vintage-style, with cloth wires, and their sound are quite an improvement over the stock pickups, while retaining a true vintage Strat vibe. From bluesy Hendrix to out-of-phase Dire Straits to twangy bright county-rock sounds, this Strat covers it all. All pots and the switch are noise-free. If you are looking at other Paisley Strats for sale, keep in mind that you probably may need to upgrade the pickups or not. It depence.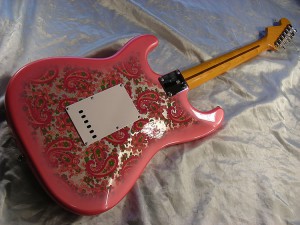 The Rest: The pickguard has some wear, of course, but nothing out of the ordinary. The tremolo section is currently blocked off. If you prefer to have it active, just pull the block out. As for the tuners, the installed Gotoh tuners are very high-quality - in fact, they are the exact same tuners as what are used on the American Vintage Reissue Strats (I know this for sure because I own two of them). The guitar weighs exactly 7 pounds and 14 ounces, a typical Strat weight. Overall, this is one handsome looking guitar that is solidly built. Actually, It's kind of nice that it is mint. Overall in excellent to near mint condition. Looks as though it has sat in it's case most of it's life. Pro setup and plays / sounds fantastic! Original hang tags, paperwork and original Fender gig-bag.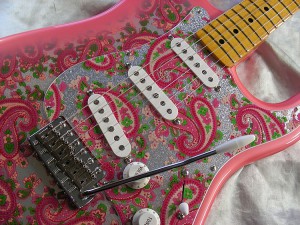 SUMMARY: They sure don't make 'em like this anymore - I believe Fender Japan stopped making this model in 2009 or so, and very few were imported into the USA after the turn of the century anyway. If you want to get noticed when you play, or just like that Sixties-era psychedelic art look, this guitar has it all covered. It rocks!
Model Name: Fender Pink Paisley Stratocaster®
Series: Classic Series
Body: Basswood
Neck: Maple, "C" Shape (Polyurethane Finish)
Fingerboard: Maple (7.25" Radius/184 mm)
No. of Frets: 21 Vintage Style Frets
Scale Length: 25.5" (648mm)
Width @ Nut: 1.650" (42mm)
Hardware: Chrome
Machine Heads: Fender/Gotoh® Vintage Style Tuning Machines
Bridge: Vintage Style Synchronized Tremolo
Pickups: 3 Vintage Style Strat Single-Coil Pickups
Pickup Switching: 5-Position Blade:
Controls: Master Volume, Tone 1 (Neck Pickup), Tone 2. (Middle Pickup)
Color: (550) Pink Paisley, (Polyurethane Finish)
Source: Japan