---
Fender RI '57 Stratocaster '93 (MIJ)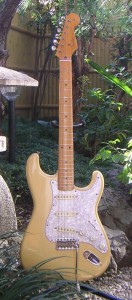 Here we have beautiful Stratocaster made in Japan Fujigen Gakki factory. This is fully fledged reissue, not economy model. These were made only for Japan market so non-export version. Fender '57 Stratocaster Reissue Made in Japan (MIJ) 1993 in the Vintage White Blonde finish. As we know these were based on the 1950's pre-CBS '57models. Highest quality of work throughout. Almost every production detail is stickled. This is the guitar with Japanese Ash body made from a great piece of Japanese Ash, otherwise known as Sen. Sen still shares the same highly figured grain patterns. The unusual colour denotes that's "ORDER" made model with blonde body, so the body paint is translucent and you can see the wood grain. The speciality of this ordered model does its body paint. Fender Japan has a Custom Shop and Order-Made division. This guitar is great an example of order made MIJs, with stamped "order" in the neck pocket in red.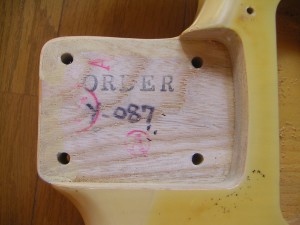 Some MIJs are custom editions, but those have a sticker on the back of the headstock that says that. Many of these "order" models were and still are for Japan only, and not intended for export, and are difficult to purchase direct from Japan, except through private collectors. The Japanese have a reputation for perfection in anything they do and are held to strict quality-control guidelines. Their guitars are nothing short of amazing. MOJO, tone, QUALITY, pride, FEEL, affordable, COVETED, playability, VIBE. I'm completely blown away by the way this thing plays and sounds. Probably one of the nicest I've ever laid hands on. I've been digging and I found that Fender Japan established an ORDER MADE department at Fujigen Factory in the 80's. A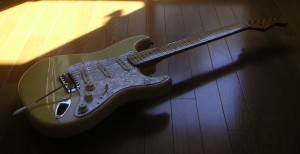 man named Makoto "Nick" Sugimoto established the Order made department and then later in 1990 he established the Custom Shop department there as well. He now owns and operates Sugi Guitars in Japan, very high end guitars. So basically, Order Made means that this guitar was actually a custom ordered stratocaster with a '57 custom body and '57 strat custom neck. Order Made instruments were only for Japan, not for export. They are very hard to find! This guitar has rich tone and it rings louder and with more clarity than most other Strats I've played. It also produces a slightly louder and brighter sound acoustically than the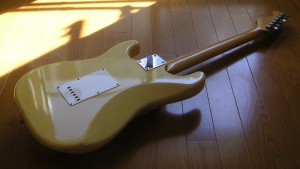 alder bodies. One piece maple neck with 'skunk stripe' feels great with C shaped oval grip and compound radius 184R = 7.25". The neck looks nice in nitro cellulose vintage amber finish and a red letter "A" which is stamped on a heal and pocket of the neck and means the nut width at 1 ½" and 12th fret at 2 1/16", scale does 25 1/2". It has 21 vintage style frets and this maple neck has frets stabbed directly into neck, no added fretboard. The frets are in good condition with no fret buzz. The condition is very good, or maybe I can say excellent, fret life is enough. The guitar has perfect intonation and the neck is unbelievably playable and just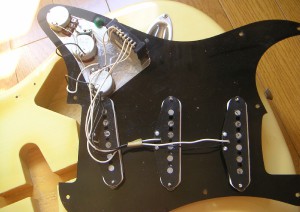 perfect. The neck fits, feels, plays, responds, without a hitch. The chrome tuners are vintage Kluson style tuners which are the nicest looking for Stratocaster style guitars ever used. The Kluson style tuners work perfectly and the trem is typical of all Fender vintage setups. That guitar stays in tune very well, and the neck very rarely needs adjusting. This guitar originaly has staggered pole pickups made in Japan and 'Fender' stamped string saddles. The Japan Alnico 50's pickups they have a harmonic complexity and depth with lots of vintage punch. They sound nice and full with a wide range of tones. They are very clear and strong, sounds great and has a warm, narrow sound. This one is (for special occasion) fitted with DiMarzio
Chopper DP 184 in the bridge position which gives it a bit more bite. Overall, the sound of this guitar is superb. Obviously the pickguard has been replaced by white pearloid which has 11 holes like known for 62's model. Fender USA vintage string spacing on chrome Fender tremolo with FENDER - FENDER stamped saddles. This has the correct big block for the best sustain. Set-up beautifully with 3 springs. Fender jack plate fitted with switchcraft USA jack socket. YM-50 japan 5 way switch works properly. The volume and tone pots are full sized at 250 ohms. It's a nice playing instrument that sounds absolutely great. I am always looking for that special guitar and this is the one I keep. Really nice action and feel to it. Quality components and hand-craftsmanship that the Japanese are so well-known for. A truly great instrument !! This is an example of a guitar that just keeps getting better & better with age.
Here is the low-down on this ORDER made model Fender Stratocaster '57 Reissue MIJ …
Pickguard 1-Ply white, (8 Hole) or 11 hole 2-ply white pearloid

21 fret maple neck with 'skunk' stripe.

Truss rod adjuster at body end of neck

One string guide; butterfly type for the '57.

Chrome vintage Kluson style tuners,

Staggered pole pickups

String saddles stamped 'Fender'

Vintage White Blonde translucent finish

Unique "Order" made gitar

Weighs 3,5 kg / 7.7 lbs

The switchcraft USA jack socket.

Scale Length 25.5" (648 mm)

Width at Nut 1.6875" (43 mm)

No. of Frets 21 Fender vintage tiny frets – height 1.2 mm

Dot Fret Inlays

2 x Fender alnico Japan '50 pickups + 1x DiMarzio DP184 Chopper

Fretboard radius 184 = 7.25"

American Vintage Synchronized Tremolo

Chrome Fender/Gotoh® Vintage Style Tuning Machines

Serial number: N013208