---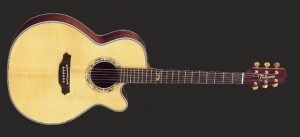 This is my main guitar Takamine Ltd 2001, always looked after and in superb condition with Takamine Hard Case. Acoustic-electric, NEX body style (15-1/2" lower bout), rounded cutaway, gloss natural finish, solid spruce top, rosewood sides and solid back, 14-fret mahogany neck, 20-fret ebony fingerboard, dolphin / wave inlay at 12th fret, 1-11/16" nut width, 25-1/2" scale, rosewood bridge with split saddle, beautiful dolphin-and-wave themed rosette, white-bound body, rosewoo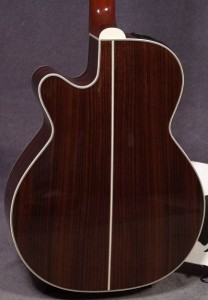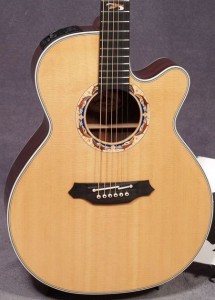 d headstock overlay, gold tuners with amber plastic buttons, made in Japan, with thermoplastic OHSC. I've always loved Takamines. I love their ability to cut through a mix and their versatility on stage in a range of musical styles. Visually the guitar is a lot more understated that other recent Takamine Limited Edition models. A leaping abalone doplhin on the 12th fret is accompanied by an intricate dolph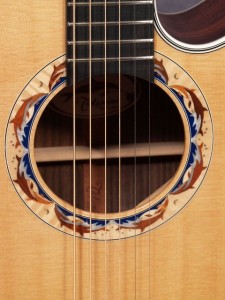 in rosette in abalone and exotic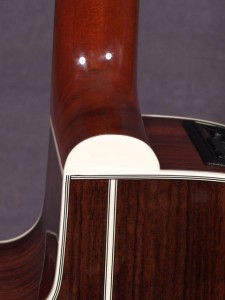 woods.
The LTD-2001 has a solid rosewood back, rosewood sides and a solid spruce top. The fretboard is ebony, mounted on a mahogany neck. Altogether it is very well put together, was nicely set up from the start. A beautiful work of art from Takamine. This Takamine's nex body with a cutaway and gloss finish. Cutaway body for reaching way up the neck. Rosew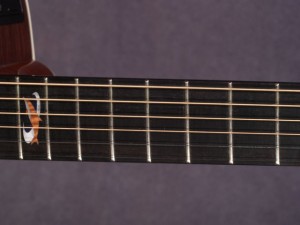 ood laminated headstock with the Takamine name inlayed in gold lettering. The soundhole is encircled with several dolphins of abalone and contrasting timbers. Except for a leaping dolphin at the 12th fret there are no inlays on the fret board but there are the usual dot inlays on top for the player. Ebony bridge with two piece split saddle for better harmonics and bound ebony fretboard. The action suited my style extremely well and allowed fast transfer of fingers up and down the neck. The top is very well matched and all routing is clean. The finish is typical Takamine, superb! The machine heads are Takamine's own branded with Amber Pearloid Buttons look and feel like quality. The frets are smooth and snu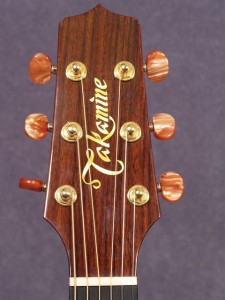 g.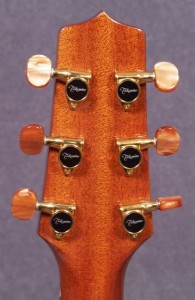 It is very well suited to strumming but also performs admirably as a picker's guitar. Steel-string guitar with excellent acoustic balance of all strings. Easy playability. Because of Takamine's reputation for producing great sounding stage instruments I was pleasantly surprised to discover this instrument sounded fantastic unplugged as well. Unplugged this guitar offers a well balanced, warm sound with a crisp, singing treble. Plugged in, of course, the Takamine comes alive. Really rich sound! The palathetic pickup has long been recognised as a g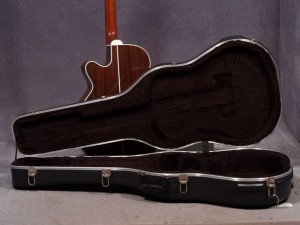 reat performer and the Takamine Accuracoustic Preamp offers basic but adequate control over the balance. The pickup system is very well balanced across all strings. The Takamine Accuracoustic Preamp is a well proven preamp for live playing and shouldn't cause any trouble. The sound is bright and well mannered and even the most determined sound man will find it hard to make it muddy. Overall it's near perfect but this is all you'd expect on a guitar of this calibre. To summarise - another excellent, hig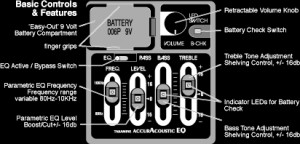 h end model from Japan that every serious guitar buyer should take a look at. I'm extremely happy with this guitar. It is more versatile than almost any other guitar I've owned and a fantastic workhorse. I suspect this guitar will be in my possession until arthritis sets me in old age. Then I'll be passing it on to my kids!
Colour : Natural

Body Shape: NEX C/A

Rosette: Dolphin Motif

Top : N/A Solid Spruce

Back : Solid Rosewood / Sides: Laminated Rosewood

Binding : White / Black

Hardware : Gold Plated

Tuners : Gold Plated / Amber Pearloid Buttons

Bridge : Ebony

Controls : Takamine Accuracoustic Preamp

Pick ups : Takemine Palathetic

Pick guard : None

Nut Width : 1 11/16ths"

Neck : Mahogany

Neck Join : Set

Scale : 25 3/8ths"

Fingerboard : Ebony

Inlay : Dolphin Design 12th Fret

Features: The Takamine LTD-2001 features a stunning dolphin motif rosette and 12th-fret inlay

Condition : 10/10

SN: 01021268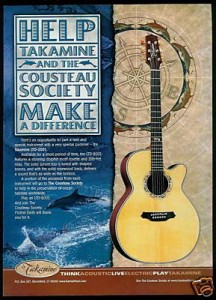 History: When Takamine guitar designers set about developing the new Limited Edition instrument for 2001, they wanted to give it a special purpose. In addition to some significant performance enhancements, the instrument features a stunning dolphin motif in the soundhole rosette and 12th fret inlay.
To give the guitar its special purpose, the company partnered with celebrated Takamine players and The Cousteau Society to benefit the world's ocean habitats. All members of the Eagles autographed a Takamine LTD-2001 which will be donated to The Cousteau Society. The same happened to another instrument which was signed by Bruce Springsteen. The Society will auction the instruments to raise funds for its many Water Planet activities. Takamine will also donate a portion of the proceeds from the sale of LTD-2001 models to The Cousteau Society.
The instrument is a cutaway acoustic/electric model in the company's popular NEX body style. The top is select solid spruce supported with lightened and contoured braces. Combined with the solid rosewood back, the top design generates exceptional volume and brilliance with a deep and powerful bass. The mahogany neck joins the body at the 14th fret and features an ebony fingerboard and bridge. Takamine's palathetic pickup and Graph-Ex preamp give the instrument broad acoustic/electric flexibility.
"We're very proud to share this instrument with The Cousteau Society," commented Paul Damiano, vice president of sales and marketing for Kaman Music and longtime Cousteau Society member. "Those of us in the music products industry are acutely aware of the need to wisely manage our natural resources. When we can call our customers' attention to this need, we feel as though we are making a small contribution to our collective future."
Robert Steele, of The Cousteau Society and third generation guitarist was glad to welcome Takamine's contribution. "Besides our oceans, music is one of the great gifts that all humans share. We're very happy that people in the music products industry are sensitive to our important ecological issues. The Eagles and the folks at Takamine have our sincere thanks for helping the cause."