---
Walden D-600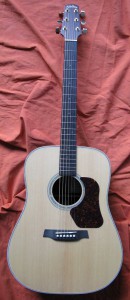 Tyto kytary překvapují perfektním zpracováním, ale především plným, přesvědčivým a vyrovnaným zvukem. Nástroje Walden nabízí velmi dobrý poměr cena/výkon/kvalita.
Typ těla: Dreadnought
přední deska: masiv smrk
zadní deska: indický palisandr
luby: indický palisandr
rezonanční deska: Scalloped-X

Krk materiál: mahagon
hmatník: masiv palisandr
šířka nultého pražce: 42mm
Vybavení:
lemovka: bílá plastová
rozeta: úšeň
logo: perleť
kobylka Walden: palisandr

Povrchová úprava: Satin Nitrocellulose
Walden Guitars are well-made instruments, constructed from high-quality materials, and provide great value at a reasonable price point, with many features usually found only on higher-priced guitars. Designed in the USA by Jonathan Lee, a former guitar designer with CFox Guitars, Waldens are manufactured at their own, dedicated facility in Lilan, China.