---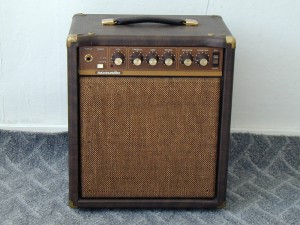 Acoustic G20-110 je solid state amp a je nejmenším v edici brown tolex. Tento exemplář byl vyroben v lednu 1981 a ke mě se dostal náhodou v únoru roku 2006 opět z Německa, tentokrát přímo z Berlína. Super zachovalý stav po prvním majiteli dával tušit spokojenost a opravdu kombo hraje bezvadně. Tento kousek používám ke cvičení v práci. Krásně se vejde vedle stolu a jeho čistý zvuk s mými straty je lahoda a pohoda a navíc s použitím krabičky Tech21 XXL overdrive pro zkreslení poskytují plný komfort pro kvalitní cvičení či hraní jen tak pro radost kdykoliv a hlavně kdekoliv. Oproti téměř 45 kg vážícímu bohatýru G100T je totiž G20-110 pouze 12 kg drobeček.
Jelikož m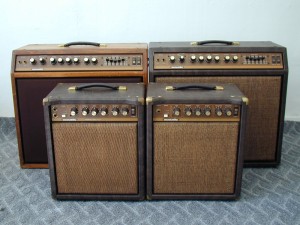 ám komba G20-110 dva exempláře, tak na velkých pódiích si dopřávám komfort podiového stereo poslechu pro moji 12-ti strunnou kytaru. Je to solid state zesilovač a tak se ukázalo, že s akustickou kytarou hraje G20-110 opravdu dobře. Jedná se o 20W jednokanálové kombo s přepínáním vstupů Low a Gain a plnohodnotným pružinovým halem Accutronic USA. Použité repro je 10" Eminence USA se specifickým hranatým magnetem vynutí. Třípásmový ekvalizér pro korekce je naprosto dostatečný, ovládání hlasitosti Input volume používám pro nastavení gainu a Master volume již jen pro finální hlasitost.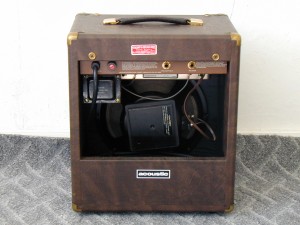 Na zadním panelu je vstup pro footswitch pro ovládání reverbu a Preamp out což je dobré jako výstup pro ladičku či pro propojení do PA či druhého G20-110. Byť se jedná o nejmenší model pro úplnost značený G20-110 Mod. 105, tak jde bezesporu o plně profesionální aparát, který i v této malé velikosti musel splňovat nejnáročnější kriteria svého výrobce, který měl laťku kvality nasazenu opravdu docela vysoko. Lepší cvičítko v kvalitě profi aparátu jsem si věřte nemohl přát.
And now of cours a little bit of English.......
Acoustic were a highly regarded manufacturer of instrument & PA amplification based in Van Nuys California. Before going out of business in the late 80's their innovative equipment was used by some very high profile players including Albert King, Robbie Krieger, Chuck Berry, Jaco Pastorious, John Paul Jones and Rick Grech. Acoustic designer Steve Rabe went on to form SWR amplification and later Raven Labs.
The GA20-110 is a single channel solid state guitar 20watt guitar combo. This example is dated November 1981. It features 2 inputs with switchable high/low gain, input volume, 3 band eq, master volume and reverb. Rear panel features a reverb footswitch jack (switch not included) and preamp output jack.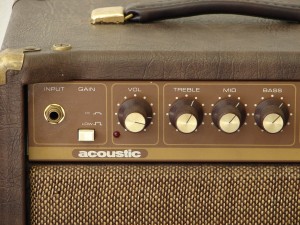 Covered in brown leather effect tolex with basketweave style speaker grille and vintage leather handle. The amp delivers 20watts RMS into a single 10" Eminence USA loudspeaker.

Tonally it has a very Fender-like clean tone. Makes a great rehearsal, recording or bedroom amp. VERY professional product, does everything from jazz to metal with killer tone. Slightly noisy on full gain. Just what you need Loud enough for small gigs, but maintains tone at bedroom volumes.

Acoustic Control Corporation, Ca USA., byla velmi známá společnost na výrobu hudebních aparatur se sídlem ve Van Nuys California. Zde ve své továrně ACC ručně vyráběli a inovovali své špičkové produkty, kt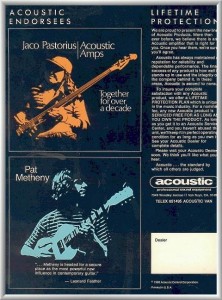 eré v té době p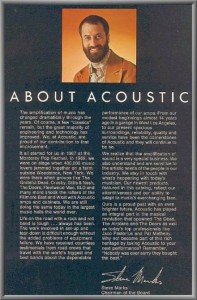 oužívali opravdu slavní a špičkový hráči jako Frank Zappa, Albert King, Robbie Krieger, Chuck Berry, Jaco Pastorious, John Paul Jones and Rick Grech, Sting a další. V polovině 80tých let ukončil Acoustic Control Corporation, Ca USA. vývoj, výrobu a prodej svých produktů vynikající kvality. Dnes po více než čtvrtstoletí vlastní tyto nezničitelné, nestárnoucí a zvukově úžasné aparáty pouze několik málo šťastlivců z různých koutů světa. Jejich cena s přibývajícími léty stále stoupá a proto, je škoda že postupně se tyto aparáty přesouvají do rukou sběratelů na úkor aktivních muzikantů.