---
Fender Princeton 112 Plus - made in USA
I needed a backup amp and thought about a basic solid-state amp that wasn't heavy. I went for this 1996 solid-state Fender Princeton 112+, made in USA, typ PR 290, rated at 65 watts, with a 12" speaker, and weighing 12 kg (31 lbs), which has perfect looks for its age. In terms of controls, it features two channels with separate EQ, reverb (not amazing, but correct), FX loop, and headphones output on the front panel. Nothing other than the usual.

It's a 65 watts solid-state amp (although I'd say it delivers more), one 1/4" jack input. 4 other connections: 1 for a footswitch, 1 preamp out, 1 power amp in and headphones. Two channels: clean and overdrive, each with treble/bass and volume controls, plus contour and gain for the second channel. A reverb button that works for both channels. Very easy to understand, no need for a manual, I really like the contour control that provides us with a good palette of different sounds! If you have any experience with guitar amps, you won't have any trouble with this amp as it has a very basic make up that is seen across the board on Fender amplifiers. The normal channel has parameters for volume, treble, and bass, while the drive channels has parameters for gain, contour, treble, bass and volume. The amp has a master reverb knob that apply to the amp no matter which channel you have switched on. Only problems are volume controls (clean and drive) go from quiet to very load with the slightes adjustments.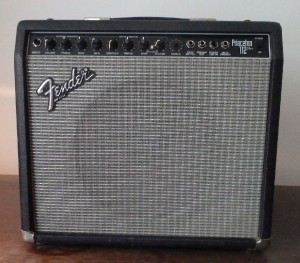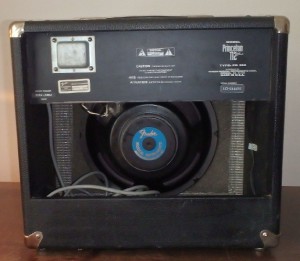 I recognize the clean Fender sound. Just for that I love it. The clean channel comes originally with a reverse log pot for the volume, so the volume increases quite a bit from 0 to 1. Hyper-clean, well-defined sound, pleasant without the need to spend much time with it. I expected worse from the drive channel. You shouldn't use this amp for what it isn't meant to be used for: this distortion was not made for metal,but it really knows its trade when it comes to blues/rock/grunge! Well, it's progressive and useful thanks to the contour control. It really lacks a mids control. The contour control allows you to very easily work with colors ranging from very fat heavy sounds to acid/metallic distortions from the '70s with a gain setting - transistor - that goes from crunch to "too" distorted. I use it with both single-coils and humbuckers and it responds fine, no problems in that sense. It's a real delight to plug in my Strat live with the amp's reverb. The sounds possible with the Fender Princeton 112 Plus amp are pretty varied and most of have a precise and clean sound to them. I like using both the normal and drive channels and I find best that this amp sounds best when using a Fender guitar like a Stratocaster or a Telecaster with it. For some reason it seems that Fender on Fender just always sounds best. I also like to use the reverb and it is definitely a nice feature to have. It's evident that it's far from the dynamics a tube amps has, but the sound isn't sterile at all, like with some other amps in the same category. The amp has a lot of presence and it is fine for a solid-sate amp, the difference with a tube amp are the dynamics.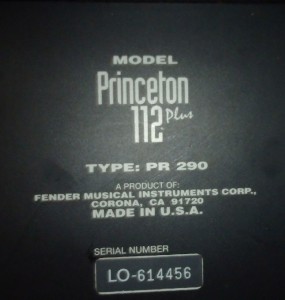 The amp works perfectly with pedals. I've been using the Fender Princeton 112 Plus for live shows in small venues and I've found that it works pretty well for this application. It isn't too big so it is easy to bring around.